The Amazon KDP self-publishing platform has been a major disruptor to the traditional publishing industry when it made it possible for the masses to become authors with just the click of a button. Away with all the hassle and bottlenecks of traditional publishing! Yaaayy.
If you haven't created your Book Bolt Account already, go to Book Bolt and apply the discount code; youngandindependent in order to get 20% off.
Anyone who would like to become a book author can write their own content or create no-content or low-content books and publish them on the Amazon Kindle Direct Publishing platform for free.
The rest of this article discusses how you can become a successful publisher on Amazon KDP.
The beauty of the KDP platform is that anyone, including your 7-year-old, can become an author in his own right and start making money too. That's how easy and accessible it is!
Traditional publishing Vs. Self Publishing
The traditional method of publishing makes it hard for just about anyone to become an author. The process of publishing traditionally can take years; it involves literary agents, manuscripts, designing, sales and marketing strategies before it is ever pushed into the world.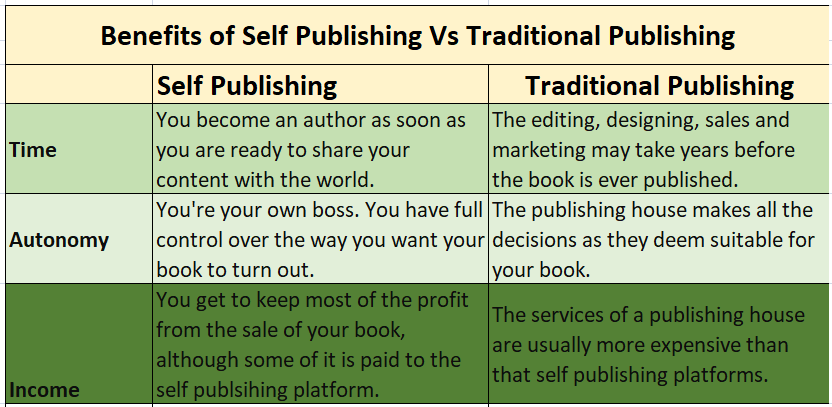 Traditional publishers publish low-content books too. But if you're a designer or a content writer, you may not get credit for the books you work on. The publisher will also take the biggest cut of the revenue, and you won't have 100% control over the publishing process.
Although the traditional method of publishing comes with a brand backup, an experienced team of people, and no overheads, newbies to the publishing world can get first-hand experience of being an author more easily.
Why Use Book Bolt to Publish on Amazon KDP
Although Alibaba dwarfs Amazon for world-wide sales, Amazon remains the largest e-commerce platform in the US market.
and the graph below shows that 33% of Amazon's sales are books.
Whether you like it or not, your ability to make money as a book seller is somehow tied to Amazon's core business model. You can publish and sell your low-content books on Book Bolt in order to get some of that 33% revenue from books.
Four Key Steps To Self Publishing
Now that we've established all the reasons why you should consider using Book Bolt and Amazon KDP, let's discuss the 3 steps that you must follow to become an author:
1. To create an Amazon KDP Account
Creating a KDP Account is pretty straight-forward. All you need to do is click on this link to create your KDP account. Fill out your personal details, including how you would like to get paid for the sales generated by your book. Be honest during this process.
2. Carry out research
This is where the Book Bolt features mentioned in this article come in. Make thousands of dollars monthly with self-published and low-content books. You can use Book Bolt to find out the types of books customers are looking for and the key words they are using to find these best-selling books.
This will inform how you title and subtitle your own book.
3. Create your book
The Book Bolt software was built to cater to the needs of self publishers on the Amazon KDP platforms. What this means is that their tools are in perfect alignment with the requirements of Amazon to ensure that your books are sold.
You can pick your book interior or combine different interiors using Book Bolt's prepare available designs.
4. Publishing
Once the 3 steps above are completed, it's time to go ahead and share your book with the world. All you need to do now is to upload your book to Amazon using your KDP account. Don't worry about it, it's pretty straight-forward. Watch this video and you will be on your way to becoming a published author.
Listen to my podcast for more details.