Robert Kiyosaki, the author of "Rich Dad Poor Dad"asked his rich dad why some people become so wealthy and others don't. His Rich dad told him "people become wealthy by transforming their earned income(salary) into a portfolio income(stocks, bonds, mutual funds, index funds) or a Passive Income( Dividends, royalties, real estate)."
It's unbelievable how many people around the world are unaware of these simple tricks used by the wealthiest people on the planet to make money work for them.
Investing in the stock market is a game-changer and can provide financial security for those who decide to learn the ropes and those who invest for the long term.
Personally, I wish someone had told me about the benefits of investing in stocks when I was 17 years old. Those who start investing at such early ages stand better chances of reaping big rewards before they are too old to enjoy their money.
I started investing in the stock market not too long ago, and I am enjoying the benefits of my decision in thousands of dollars..
Guys… I am talking about making money whilst I am having play time with my kids, cooking a delicious meal for my partner, out on my money fitness walks and whilst deeply asleep. In one instance, I went to bed and woke up the next trading day to the pleasant surprise that my money had doubled overnight.
When you buy stocks, you are entrusting your money to the directors and management team of that particular company to manage it for you. Which is why you must ensure that you've done proper research on the company's products, their growth potential, and the competency of the management team. Failure to do these 3 things may lead to a potential loss of your money.
When someone tells you that they have made money on the stock market, what they're saying is that they bought a stock at a low price and the price of the stock went above their purchase price. And in order for this to happen, the company would definitely be doing the right things that increase sales revenues, dividend yield, earnings per share, reduce debts and cost, and all that financial junk.
Beginners' guide to trading on Etoro
Trading on etoro is super easy, just a few steps and you will be on your way to owning a few of the best companies that serve you every single day. And as wall street trapper right puts it, "if you're to wear the fendi and Nike and Gucci, why don't you own that sh*t too" Lol
B. the latest stock investor in town
Last week, I got contacted by a schoolmate(B), who had come across a post I shared in our ex-students WhatsAppp group. He wanted me to walk him through the basics of trading. I scheduled a call with him and gave him a quick run down of the usual stock market jargon.
After the intro call, I sent him my personal stock market watch-list(a list of all the companies I am optimistic about based on some research). I asked him to go through them, find out what they do, go through their financials and then decide which ones he was going to buy.
I sent him the link to my stock broker, Etoro in the United Kingdom which is regulated by the UK Financial Conduct Authority. He clicked on the link, filled out his personal details, and immediately created his personal brokerage account!
On Saturday March 26th, B was extremely eager to get on the phone with me. He wanted to buy his first couple of stocks and become a part company owner.
He told me he had chosen Evofem, Bionano Genomics, and Gevo from the list I sent him. I guided him through placing his order for these 3 stocks. On Saturdays, stock markets are closed in the United States. B. was super excited and couldn't wait for his trade to be received and his positions to open!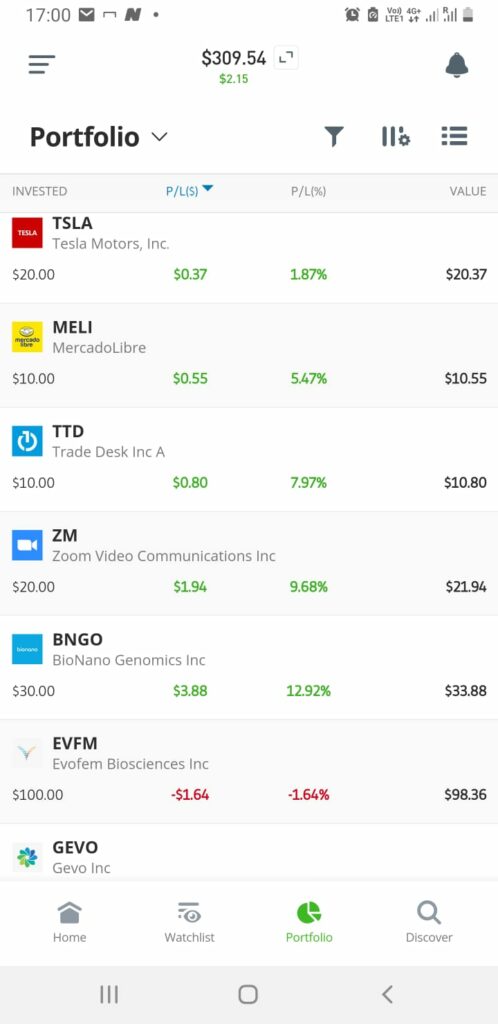 Today is the third day and B is already watching his money work for him on the stock market.
Some facts about B's move:
He was positively curious
He was willing to learn
He humbly reached out to someone who could help
He put in the work and did his own research
He acted upon the information he had learned
Right now, B knows how to navigate his Etoro brokerage app, and he even went ahead to place buy orders on Tesla, Trade Desk, Zoom, and Meli without needing any form of assistance from me… Now that's what I am talking about!!
Conclusion
B has set the snowball effect towards long lasting wealth creation, and I can only hope that he keeps investing in good companies.
If you need more information, check out this article I wrote on How Come My Dad Never Traded Stocks?
You too can begin your investment journey today. All you need to do is research and open a brokerage account with Etoro, or any other regulated broker of your choice, so as to stop missing out on stock market gains.